The 26th Annual Patrick O'Keeffe Traditional Music Festival
Castleisland, Co. Kerry, Ireland.
October 26th – 29th 2018
(Provisional, Subject to change) Please share.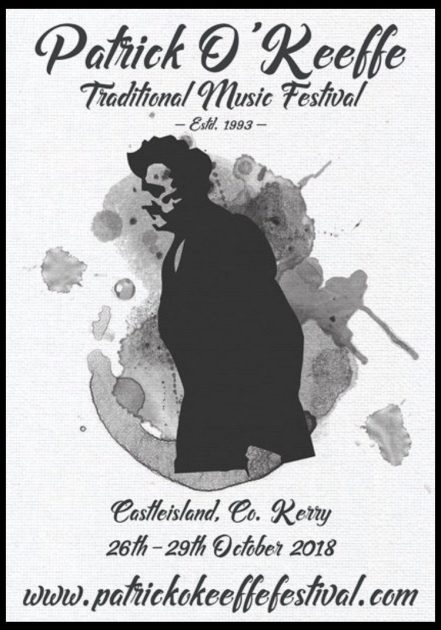 𝗙𝗿𝗶𝗱𝗮𝘆, 𝗢𝗰𝘁𝗼𝗯𝗲𝗿 𝟮𝟲𝘁𝗵 :
9.00pm. Patrick O' Keeffe Traditional Music opening with musical accompaniment. River Island Hotel
10pm. Pub Trail begins with organised and impromptu sessions with Ireland's top traditional musicians in pubs throughout the town. A detailed programme will be available online and in the pubs and River Island hotel.
𝗦𝗮𝘁𝘂𝗿𝗱𝗮𝘆, 𝗢𝗰𝘁𝗼𝗯𝗲𝗿 𝟮𝟳𝘁𝗵:
9.45 am. Registration for music classes, all levels catered for. St. Patricks Secondary school, College Rd. (All Classes will be Sliabh Luachra orientated)
10.00am. Fiddle Classes – with Connie O'Connell & Emma O Leary
10.00am Accordion Class with Paudie O' Connor.
2pm: 𝗙𝗶𝗱𝗱𝗹𝗲 𝗥𝗲𝗰𝗶𝘁𝗮𝗹/ 𝗖𝗼𝗻𝗰𝗲𝗿𝘁 in the Ivy Leaf Arts Centre, Hosted by Matt Cranitch, Gerry Harrington, Emma O' Leary, Paddy Jones, Connie O'Connell, Andrea Palandri, and Aoife O' Keeffe.
2.30pm: 𝗣𝗼𝗽 𝘂𝗽 𝗚𝗮𝗲𝗹𝘁𝗮𝗰𝗵𝘁 le Éamonn Ó Braoin – Brush up on your conversational Irish in an informal, relaxed class with Éamonn Ó Braoin in Nana Bea's restaurant, (beside the new library)
Pub trail runs all day.
From 4.00: 𝗦𝗶𝗻𝗴𝗶𝗻𝗴 𝗖𝗼𝗻𝗰𝗲𝗿𝘁 in Hartnett's Bar with Mickey MacConnell, Tim Dennehy, & friends. Hosted by Aileen Rowntree.
𝗦𝗮𝘁𝘂𝗿𝗱𝗮𝘆 𝗡𝗶𝗴𝗵𝘁: Pub trail continues until late.
𝗦𝘂𝗻𝗱𝗮𝘆, 𝗢𝗰𝘁𝗼𝗯𝗲𝗿 𝟮𝟴𝘁𝗵:
11:30am Mass with traditional music for the departed friends of the festival. Followed by a musical remembrance at St. John's graveyard.
1pm: Pub trail runs all day.
3pm: 𝗖é𝗶𝗹í 𝗠ó𝗿 in the Riocht with the Donnie Nolan Céilí Band.
3pm: 𝗦𝗶𝗻𝗴𝗶𝗻𝗴 𝘄𝗼𝗿𝗸𝘀𝗵𝗼𝗽. All singers welcome. Hosted by Joe Walsh & Mikey O' Connor.
6.30pm: 𝗟𝗲𝗰𝘁𝘂𝗿𝗲 𝗼𝗻 𝘁𝗵𝗲 𝗠𝘂𝘀𝗶𝗰 𝗼𝗳 𝗦𝗹𝗶𝗮𝗯𝗵 𝗟𝘂𝗮𝗰𝗵𝗿𝗮
Sunday night: Pub Trail Continues.
*****𝗦𝘂𝗻𝗱𝗮𝘆 𝗡𝗶𝗴𝗵𝘁 𝟴.𝟬𝟬 𝗽.𝗺.*****𝗔𝗻𝗻𝗶𝘃𝗲𝗿𝘀𝗮𝗿𝘆 𝗖𝗼𝗻𝗰𝗲𝗿𝘁
Ireland's top traditional musicians.
M.C. Tim Dennehy
Presentation of the of the "Dedication to Sliabh Luachra" award to Timmy O' Connor, Newmarket.
Pub trail continues.
𝗠𝗼𝗻𝗱𝗮𝘆, 𝗢𝗰𝘁𝗼𝗯𝗲𝗿 𝟮𝟵𝘁𝗵
1pm. pub trail will continue all day till late.
3.00pm
Poet & Writer Gabriel Fitzmaurice inviting the so inclined to a poetry writing work shop
in Browne's back Bar
To begin a story is hard ….to end a story is harder still
During the upcoming Garry McMahon Weekend many a story and song will be sung and told in celebration of our rural and native traditions of ballad singing, ballad making and story telling. This is all due to the efforts of the West Limerick Singing Club and their hard working committee under the chairmanship of Tomas McKenna and Secretary Chris O' Shea, the Club in promoting the humble ballad and the art of story telling and doing everything in their power to preserve our rural traditions.
This is the tenth anniversary of the Garry McMahon weekend and contributors from all over Ireland will flock to the Ramble Inn during the 19th to the 21st of October 2018. Singers from the four corners of Ireland from Cork to Tyrone, from Sligo to Wexford will give air to their native songs and ballads and a great time will be had by all. Each singer or storyteller is guaranteed an attentive audience and their contribution is treasured and valued as it is unique in its presentation and gives us an insight into the different oral traditions throughout Ireland.
The launch of the tenth Annual Garry McMahon Weekend will be held at The Ramble Inn, Abbeyfeale at 8.00 p.m. on Friday the 5th of October 2018 and is being hosted by Philip and Marie Enright. The success of the Garry McMahon Weekend is testament to the growth and interest in Ballads and Ballad singing which has resulted in the setting up of many Singing Clubs throughout Ireland. The West Limerick Singing Club was founded in 2002 and has gone from success to success in the intervening years and can boast among its members several All Ireland Champions such as Philip Enright, Micheal O' Se and Catherine Broderick Murphy. The late Garry McMahon was a proud member of the club prior to his death in 2008 and at the monthly sessions he would sing his own compositions such as "The Land of the Gael", "My own Newcastle West" and "The Hills around Listowel" and he would indeed be proud to know that these songs are still being sung not only in West Limerick but throughout Ireland.
Primarily the aim of the Club is to preserve and keep alive the traditional songs and stories from previous generations. Songs of rural Ireland composed by ordinary people, farmers, tradesmen, spalpeens etc. The Garry McMahon Weekend most aptly takes place in an area where the Ballad has always been a considerable force and where the art of Ballad making is still very much alive. It is however indeed hoped that as a result of the weekend rural Ireland as a whole shall continue to produce Ballad Singers and Ballad makers to chronicle peoples sorrows and joys, their whimsies and their loves and to delight generations for many years to come. The aim of the West Limerick Singing Club is to carry on the torch lit by such people as Garry McMahon.
The official opening takes place on Friday 19th of October 2018 at
8.00p.m. in The Ramble Inn, Abbeyfeale, and the opening will be
performed by the legendary Kerry Footballer Darragh O' Se from Ard a Bhotair, Ventry, County Kerry, who with his brothers Tomas and Mark graced the football fields of Ireland for many a year. He is regarded as one of the greatest midfielders of all time.
Also in attendance for the weekend will be Seamus Brogan, Singer and Lilter who originally hails from Monageer, Wexford, but now lives in London. He was All Ireland Traditional Singing Champion in 2000 and is a member of the Ard Chomhairle Chomaltas Ceoiltoiri Eireann. The renowned singer Raconteur Collector and Archivist Joe O' Connor from Milltown Malbay will also be in attendance throughout the weekend.
On Saturday morning there will be a special lecture and presentation called "The Story and the Song" giving the background to the events recalled in the well known ballad "The Valley of Knockanure" by Bryan McMahon.
On Saturday afternoon a very special singing session featuring the songs and recitations of G.A.A. legends will be held at The Ramble Inn and will feature such songs as Christy Ring, Tommy Quaid and Mick O' Connell. How appropriate it is that this session will be held on the year that Limerick brought home the Liam McCarthy cup. It is hoped that contributors will bring songs from their own locality recounting gallant deeds on the football and hurling fields of yesteryear. Maybe someone will even bring a newly composed song about the Limerick Heroes 2018.
On Saturday the 20th of October at 6.30p.m. Aifreann na Riochta will be celebrated and sung by Abbeyfeale Choir in Abbeyfeale Church.
On Sunday afternoon at 3.00p.m. at Fr. Casey's G.A.A. Club a special tribute and presentation will be held to honour of the sisters Kitty O' Donoghue and Nora Kennedy both well known in the Rambling Houses of Munster. Originally Kitty and Nora Carrig from Creeves, ASkeaton, County Limerick, they and their family will be the guests of honour at the concert on that afternoon, both need no introduction and they have been staunch supporters of The Garry McMahon Weekend. This will be an occasion not to be missed and everybody is welcome. West Limerick Singing Club is proud to honour these gracious ladies during the weekend.
Be assured that many songs will be sung during the weekend so come along
and enjoy these songs. Sing them ! Change the music or timing if you feel something else works better for you ! After all that's what ballads are all about!
Owen D. McMahon
2018