Sliabh Luachra Series Episode 2 Feb 20th 8pm
On Saturday 20th of February at 8pm we will bring you the second instalment in the new video series celebrating Sliabh Luachra music. It's made thanks to funding from Cork, Kerry and Limerick County Councils with support from the Arts Council and Creative Ireland.
This one will feature proud Sliabh Luachra woman Niamh Ní Charra talking about her recent album called Donnelly's Arm, There'll be the story and song from Tim Browne and for the main event we'll bring you Áine & Francis O'Connor playing music from their album that came out last year called They Didn't Come Home Until Morning. There'll be contributions from some talented young musicians and we'll take a look back to our last video in which we launched a new record label for Sliabh Luachra.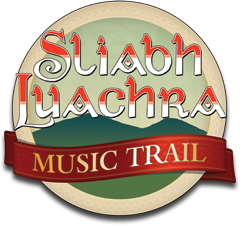 The Sliabh Luachra Music Trail is a joint initiative involving the Arts Offices of Cork and Kerry County Councils and Limerick City & County Council. Among the objectives include a range of measures that aim to promote and preserve the region's unique musical heritage. The Sliabh Luachra Music Trail works with local Arts organisations to programme concerts, sessions, talks, workshops and master classes.