Emma O'Leary New Album
Sliabh Luachra proudly present a new album of fiddle music by Emma O'Leary of Scartaglin. The album is made of up of tunes Emma collected from players she met and played with growing up in Sliabh Luachra.
For more see: https://sliabhluachra.bandcamp.com/album/mo-cheantar-f-in
Sliabh Luachra Series Episode 3 March 20th 8pm
On Saturday 20th of March at 8pm we will bring you the third instalment in the new video series celebrating Sliabh Luachra music. It's made thanks to funding from Cork, Kerry and Limerick County Councils with support from the Arts Council and Creative Ireland.
In this one we launch a new album by Maura O'Connor, a brilliant young musician from Abbeyfeale. We'll also talk to the people behind the rushymountain.com and we take a look at an album of Sliabh Luachra music from Michael Sheehy that came out in 2016. There'll be young musicians, some bits from episode one and two and a preview of the Maurice O'Keeffe Festival. It's going to be great.
Maura O'Connor – It's Handed Down
Bryan O'Leary's – Tranquility in Tureencahill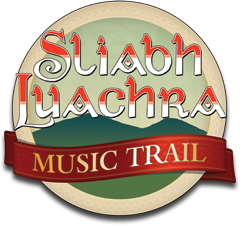 The Sliabh Luachra Music Trail is a joint initiative involving the Arts Offices of Cork and Kerry County Councils and Limerick City & County Council. Among the objectives include a range of measures that aim to promote and preserve the region's unique musical heritage. The Sliabh Luachra Music Trail works with local Arts organisations to programme concerts, sessions, talks, workshops and master classes.