The 26th Annual Patrick O'Keeffe Traditional Music Festival
Castleisland, Co. Kerry, Ireland.
October 26th – 29th 2018
(Provisional, Subject to change) Please share.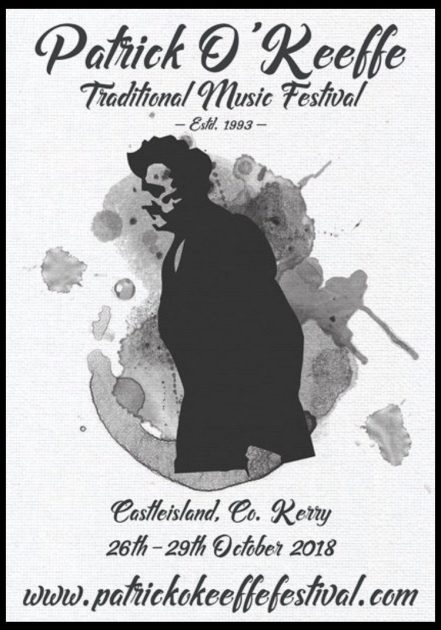 𝗙𝗿𝗶𝗱𝗮𝘆, 𝗢𝗰𝘁𝗼𝗯𝗲𝗿 𝟮𝟲𝘁𝗵 :
9.00pm. Patrick O' Keeffe Traditional Music opening with musical accompaniment. River Island Hotel
10pm. Pub Trail begins with organised and impromptu sessions with Ireland's top traditional musicians in pubs throughout the town. A detailed programme will be available online and in the pubs and River Island hotel.
𝗦𝗮𝘁𝘂𝗿𝗱𝗮𝘆, 𝗢𝗰𝘁𝗼𝗯𝗲𝗿 𝟮𝟳𝘁𝗵:
9.45 am. Registration for music classes, all levels catered for. St. Patricks Secondary school, College Rd. (All Classes will be Sliabh Luachra orientated)
10.00am. Fiddle Classes – with Connie O'Connell & Emma O Leary
10.00am Accordion Class with Paudie O' Connor.
2pm: 𝗙𝗶𝗱𝗱𝗹𝗲 𝗥𝗲𝗰𝗶𝘁𝗮𝗹/ 𝗖𝗼𝗻𝗰𝗲𝗿𝘁 in the Ivy Leaf Arts Centre, Hosted by Matt Cranitch, Gerry Harrington, Emma O' Leary, Paddy Jones, Connie O'Connell, Andrea Palandri, and Aoife O' Keeffe.
2.30pm: 𝗣𝗼𝗽 𝘂𝗽 𝗚𝗮𝗲𝗹𝘁𝗮𝗰𝗵𝘁 le Éamonn Ó Braoin – Brush up on your conversational Irish in an informal, relaxed class with Éamonn Ó Braoin in Nana Bea's restaurant, (beside the new library)
Pub trail runs all day.
From 4.00: 𝗦𝗶𝗻𝗴𝗶𝗻𝗴 𝗖𝗼𝗻𝗰𝗲𝗿𝘁 in Hartnett's Bar with Mickey MacConnell, Tim Dennehy, & friends. Hosted by Aileen Rowntree.
𝗦𝗮𝘁𝘂𝗿𝗱𝗮𝘆 𝗡𝗶𝗴𝗵𝘁: Pub trail continues until late.
𝗦𝘂𝗻𝗱𝗮𝘆, 𝗢𝗰𝘁𝗼𝗯𝗲𝗿 𝟮𝟴𝘁𝗵:
11:30am Mass with traditional music for the departed friends of the festival. Followed by a musical remembrance at St. John's graveyard.
1pm: Pub trail runs all day.
3pm: 𝗖é𝗶𝗹í 𝗠ó𝗿 in the Riocht with the Donnie Nolan Céilí Band.
3pm: 𝗦𝗶𝗻𝗴𝗶𝗻𝗴 𝘄𝗼𝗿𝗸𝘀𝗵𝗼𝗽. All singers welcome. Hosted by Joe Walsh & Mikey O' Connor.
6.30pm: 𝗟𝗲𝗰𝘁𝘂𝗿𝗲 𝗼𝗻 𝘁𝗵𝗲 𝗠𝘂𝘀𝗶𝗰 𝗼𝗳 𝗦𝗹𝗶𝗮𝗯𝗵 𝗟𝘂𝗮𝗰𝗵𝗿𝗮
Sunday night: Pub Trail Continues.
*****𝗦𝘂𝗻𝗱𝗮𝘆 𝗡𝗶𝗴𝗵𝘁 𝟴.𝟬𝟬 𝗽.𝗺.*****𝗔𝗻𝗻𝗶𝘃𝗲𝗿𝘀𝗮𝗿𝘆 𝗖𝗼𝗻𝗰𝗲𝗿𝘁
Ireland's top traditional musicians.
M.C. Tim Dennehy
Presentation of the of the "Dedication to Sliabh Luachra" award to Timmy O' Connor, Newmarket.
Pub trail continues.
𝗠𝗼𝗻𝗱𝗮𝘆, 𝗢𝗰𝘁𝗼𝗯𝗲𝗿 𝟮𝟵𝘁𝗵
1pm. pub trail will continue all day till late.
3.00pm
Poet & Writer Gabriel Fitzmaurice inviting the so inclined to a poetry writing work shop
in Browne's back Bar